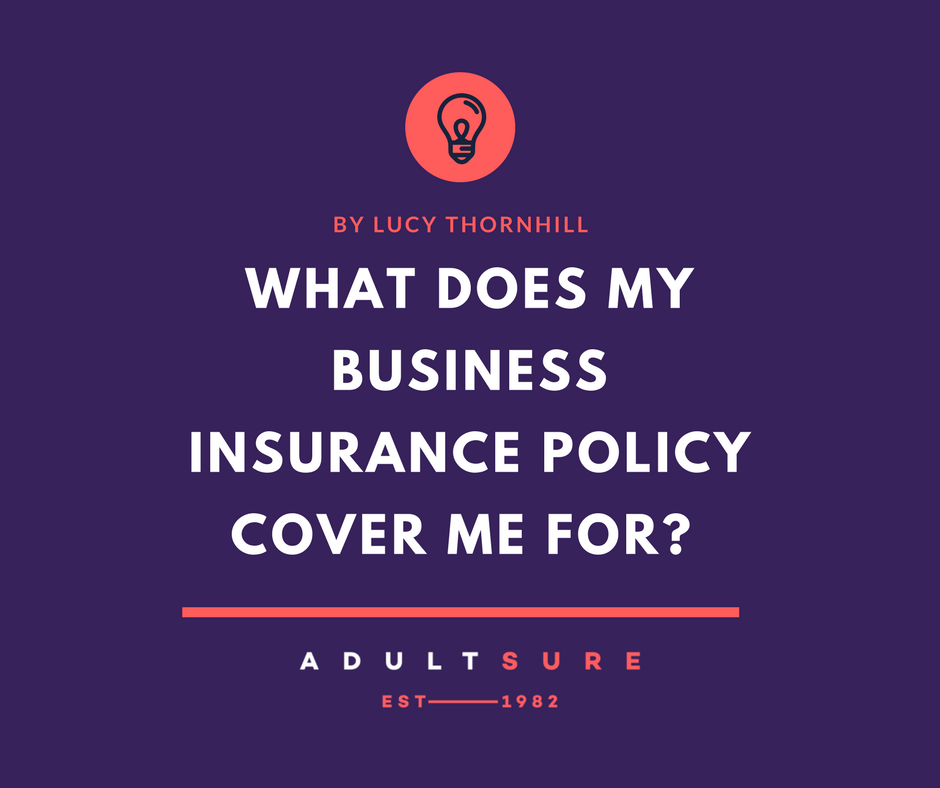 What does my business insurance policy cover me for?
Insurance is one of those things that you must have, but often loathe spending time and money on; partly because it is something you may never need. Only when something unthinkable happens is the true value of the correct cover and the right insurance policy fully appreciated.
As every client's needs and businesses are individual, it is difficult to write a one size fits all guide, but below I have tried to summarise the basics to help you understand what cover you and your business may need.
Public liability insurance
Public Liability Insurance is an essential product for any business as it protects against legal liabilities towards innumerable third parties, even trespassers! All businesses need this cover!
Public liability includes cover against death or bodily injury to third party persons, or third party property from incidents arising from your business activities.
A good example would be a window cleaner who is cleaning a second floor window on a busy street and drops his bucket. There could be many possible outcomes and claims from this.
Another example would be a builder who leaves some tools out when nipping to answer his phone while a member of the public is walking past and trips up, breaking their wrist.
Public Liability Insurance Cover limits will often start at £2,000,000. In some cases, you may find a contract requires you to hold £5,000,000 or even £10,000,000, which is often the case if you're working on a local council or government contract. We can quote for these limits upon referral.
Products Liability Insurance
This covers the same type of insurance as Public Liability (legal liabilities), the difference being that this is protecting you for liability arising from a product supplied, installed, maintained or manufactured by you. It also covers the supply of goods to someone else which through your negligence causes injury or damage, as well as solicitors fees and all costs and litigation expenses, damages and claimant costs which you would be legally liable for.
This is not the same as a warranty however and only provides insurance for damage or injury caused by your product. It is also not a 'product recall' cover, although with some products this may be required.
Us, like most insurers sell our Public and Products Liability as one package.
Employers' liability
Employers' liability insurance is cover required by law. It provides insurance for employees who are taken ill, or who have an accident, whilst working for you.
There are some rare exceptions to businesses requiring this cover, however, it is usually sold in a package alongside Public and Products Liability and possibly other covers as well.
Although the law states £5,000,000 is required, the insurance standard limit of indemnity is £10,000,000.
Please note, you are required to display a certificate of insurance where your employees can see it – on a noticeboard and/or intranet, for example.
Buildings cover
If you need to arrange an insurance policy to cover for your building, maybe your shop or office, you need to firstly calculate the rebuild value of your property (how much it would cost to rebuild the property from scratch including fixtures and fittings, parts and labour, and professional costs such as architect's fees). It is always this figure and not the resale or market value that is the basis of the insurance.
If you're not sure what the rebuild cost should be, you can get this from a qualified surveyor, your mortgage advisor or letting agent, or if you've recently had a property survey. You can visit http://abi.bcis.co.uk/ to use the Association of British Insurers' rebuilding cost calculator, which could help.
Contents, Fixtures and Fittings
Contents cover protects your equipment, furniture and fixtures and fittings (such as shelving and display cases) against theft, vandalism or damage caused by fire or flood.
Tenants Improvements
If you rent the buildings which you occupy from a Landlord, check through your commercial insurance policy to ensure you have an item for Tenants Improvements. Your own Contents/Fixtures & Fittings insurance is likely to only cover you for the value of those items you would take with you should you leave. If having moved into the premises you have installed fixtures and fittings that will not be taken with you should you leave, these items will be regarded as Tenants Improvements e.g. partition walls and fixed cupboards & lighting. Your Landlord's Insurance only covers Landlord's Fixtures and Fittings, and therefore as being the tenant, you would require your own Tenants Improvements insurance to cover these remaining items.
Stock
Stock cover protects the items you sell against theft, vandalism or damage caused by fire or flood.
Subsidence
Some property insurance policies (where subsidence is requested) cover loss or damage caused by subsidence, heave and landslip. However, they only cover the cost of repairing the loss or damage. They do not cover the cost of preventing further subsidence.
This means the cost of repairing damage (such as cracks) to the building's superstructure is generally covered , but the cost of stopping the building from moving in the future is not covered.
Deterioration of stock/Frozen Food
This is a cover for accidental defrosting of frozen food, typically this is covered subject to freezer units being under 10 years old and annually maintained (as detailed in the
warranties/endorsements section in your insurance policy).
Goods in Transit
Goods (generally stock) that have departed from the premises but have not yet arrived at the delivery point. This cover also extends to include contents cover from a cash and carry, although this is dependent on your insurers policy wording.
Money
Money cover is, as the name suggests, cover for any money that the business may have on their premises or in transit. If you have money in an overnight safe, or have employees who handle money or take it to the bank, then Money cover is worth considering. We give automatic limits on all our quotes with an option to increase these during the quotation stages.
Loss of Rent Receivable
This cover pays out in the event of a claim for loss or damage caused, for example by fire or flood, that means your tenants can no longer stay in the property. Loss of rent insurance won't protect you against your tenants simply defaulting on their rent, as that is a separate matter.
Legal Expenses
Legal expenses cover will empower you to pursue or defend your commercial legal rights in the future. Your business could be protected from legal costs arising from: employment disputes and compensation awards, tax protection, property protection, compliance and regulation. This is strictly subject to immediate contact via the helpline and use of insurer appointed solicitors.
Business Interruption Cover
This covers Loss of trading profits, including additional cost of working. Choose 12 or 24 months indemnity.
When deciding upon the length of the period you need to work out how long it would take your business to recover back to today's trading levels following a Fire, Theft or Flood. – Levels vary from 12 to 24 months or even longer. Standard cover is typically £250,000 over a 12 months indemnity period; if a longer period or higher amount is required this is available at the quotation premium offer stage by entering the additional amounts required.
Professional Indemnity Insurance
Professional indemnity insurance protects you from mistakes you make at work that result in a financial loss to your client, specifically after you've provided them with a service or advice.
We will write more on this later, but some of the most common professions requiring professional indemnity insurance are:
Architects and engineers
Accountants and bookkeepers
IT Contractors
Solicitors
Consultants
Insurance Terms Defined
Underinsurance
With all property insurance, particularly buildings and contents, it's important that you don't 'underinsure'. Underinsurance commonly occurs when someone insures a lower value than the total, thinking that it may save money, or they'll never need it all anyway!
If you haven't insured the correct total value then you will be 'underinsured' and most insurers will apply 'average' to your claim, proportionately reducing the amount you are paid out. Please see our article on that here.
Limit of Indemnity
This is the maximum sum that the insurer will pay for any event, occurrence or accident, or in aggregate in any one year on your insurance policy.
Indemnity period
Indemnity Period is the period during which the business' results are affected due to the loss or damage, beginning with the date of the loss or damage and ending not later than the Maximum Indemnity Period. The Maximum Indemnity Period is stated within your Policy Schedule.
Fraudulent liability claims
Fraudulent claims are becoming increasingly more common and your insurer will still protect you, should you fall victim to such.
Always notify your insurer as soon as an incident has occurred, whether you believe it will lead to a claim or not, and even if you suspect it is a dubious incident. The sooner your insurer has the information, the better the job they can do of protecting you.
Don't forget though, we are a friendly bunch! If you have a specific question or query about your insurance policy, please give us a call, a message on live chat, an email or come to the office and see us – we are always happy to help!